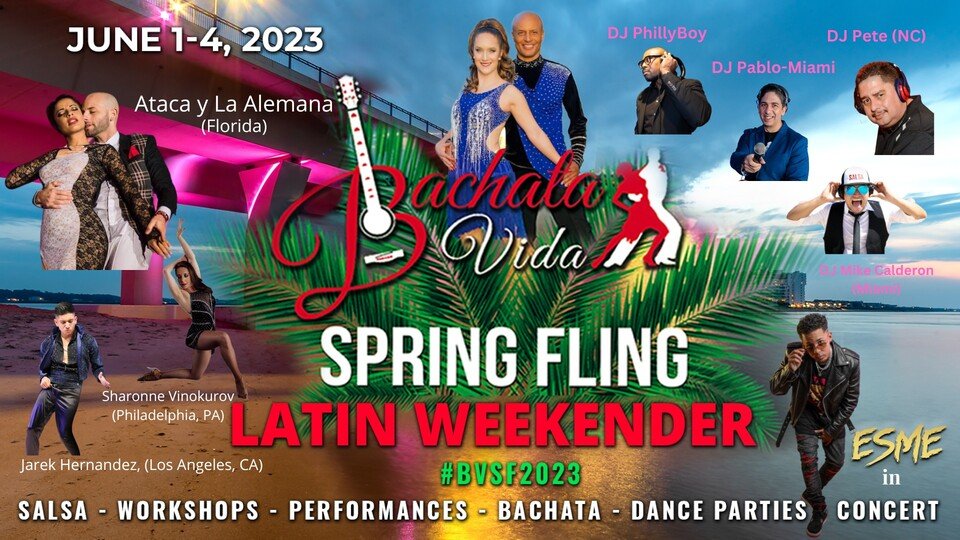 Jun 1, 2023: 7:00pm  -  Jun 4, 2023: 6:00pm
*** Please register at www.bachatavida.com/springfling ***
This may may be the first and only "pop-up" Latin Dance Festival in the US!
Welcome to our second Spring Fling Latin Weekender! A multi-day Latin dance event for everyone! Our event in 2022 was amazing and this one will be even better.
Learn to dance Bachata & Salsa. From true beginners to advanced dancer we have something for everyone. Four days with 30 hours of dance classes, dance parties, performances, Salsa Silent Disco, a live concert, performance camp with ATACA, pool party and more.
Check out the agenda:
Thursday - Pre-party at Virginia Beach Winery located at 1064 Lynnhaven Pkwy #110, Virginia Beach, VA 23452
7pm to 11pm
** Included in Full Pass or $15 at the door
NO outside food or drink
Food Truck by CUPS UP! Gourment food in a cup! From Lobster tail to truffle fries, bang bang chicken, shrimp, turkey and more!
Theme: LUAU!
Friday - SKATE and DANCE NIGHT! Huge venue to dance in the middle or skate around or do both!
We start things of with Two Special classes at Haygood Skating Center located at 1036 Ferry Plantation Rd, Virginia Beach, VA 23455
7:30pm: Bachata Footwork with Jarek & Alvin
8:30pm: Ladies Bachata Styling with La Alemana & Helena
** Not included in the Full Pass and must be purchased in addition.
FYI.. Limited Spots!
These 2 classes are $20 each.
Then the Official Welcome/Meet and Greet Party! Welcome our out of town visitors and chance to meet our guest instructors. Skates are included with entry!
Location: Haygood Skating Center - 1036 Ferry Plantation Rd, Virginia Beach, VA 23455
10pm to 2am
NOTE: Dance & Skate party is included in Full Pass or $25 at the door
*** FOOD TRUCK by MIAMI Fusion!\
International and Cuban Cuisine.
Theme: 70's Night!
Saturday - 6 hours of Salsa & Bachata workshops to include a deep dive into musicality and body movement, turn patterns, footwork and more from multi world champion Sharonne Vinokurov (PA), Salsa champion Jarek Hernandez (LA), and the worlds most famous Bachata couple, ATACA y LA ALEMANA!
Don't know how to dance or just started? Don't worry, we got you. Register for our all day Beginner Fling pass! 9:30am to 5pm. There is something for everyone! All workshops and party is at the Virginia Beach Convention Center on this day.
1000 19th St. Virginia Beach.
After the workshops is a dinner break then comes the main dance party with performances plus a Live Concert by ESME! Silent Salsa Disco hour. Plus, a cash bar available.
Workshops from 9:30am to 5pm.
Dance party that night. Doors open at 8:00pm and party goes until 2am! To include performances, Jack & Jill contest, Silent Salsa Disco!
Theme: THE GREAT GATSBY! - Dress to Impress enforced.
Full Pass gets you in or must purchase one of other passes that include Saturday night. NO payments at the door so please purchase online in advance!
Sunday - Spring Fling Pool Party at Aqua Social Club on the Oceanfront Beach! Located on 8th St.
Time: 12:00pm to 6:00pm
- to include dancing, swimming, games and contests all afternoon! Look for the Quality Inn Hotel and enter in through the Boardwalk. Parking is in 9th or 5th Street Garages.
**Rain Location: Peabody's Nightclub on 17th St.
Included in the Full Pass or $20 at the door.
Theme: BEACH attire
Performers: If you are interested in performing, please email us at info@bachatavida.com as soon as possible!
Accommodations: We have a limited room block at the DoubleTree Hotel right beside the convention center. When registering for the event you will see the link to reserve your room.
Book your rooms early to lock in this low rate now. First come, first serve for rooms and they sell out fast this time of year so get yours early!
** We also have a second hotel, Springhill Suites by Marriott, with discounted rates that is only 12 minutes away from all of the venues so check it out on the website and ticket pages!
Come with friends or make new ones! We offer a welcoming environment to learn, dance and see how Dance Makes Life Better!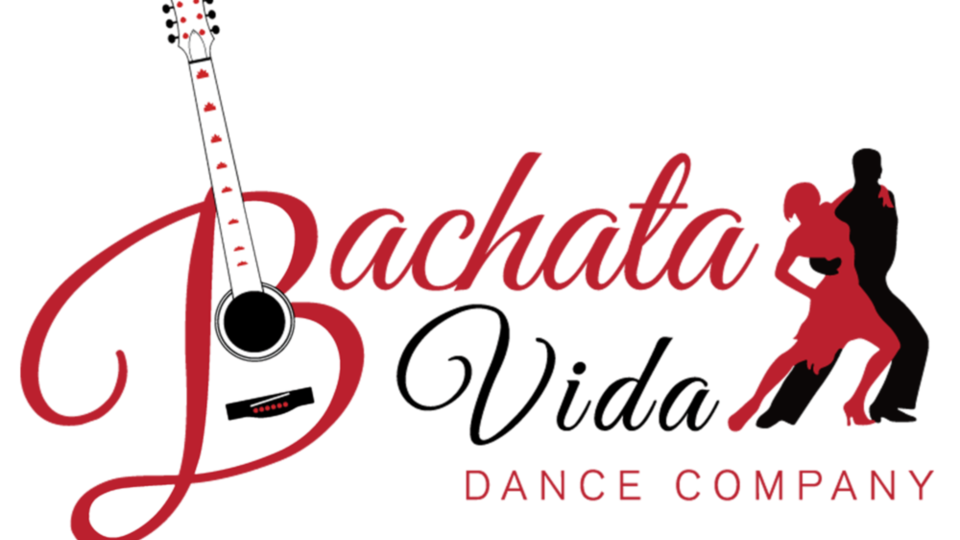 Offering quality dance classes, events and performances in Bachata and Salsa! Come dance with us because... Dance Makes Life Better!
Event Date
2023-06-01T19:00:00-04:00
End Date
2023-06-04T18:00:00-04:00