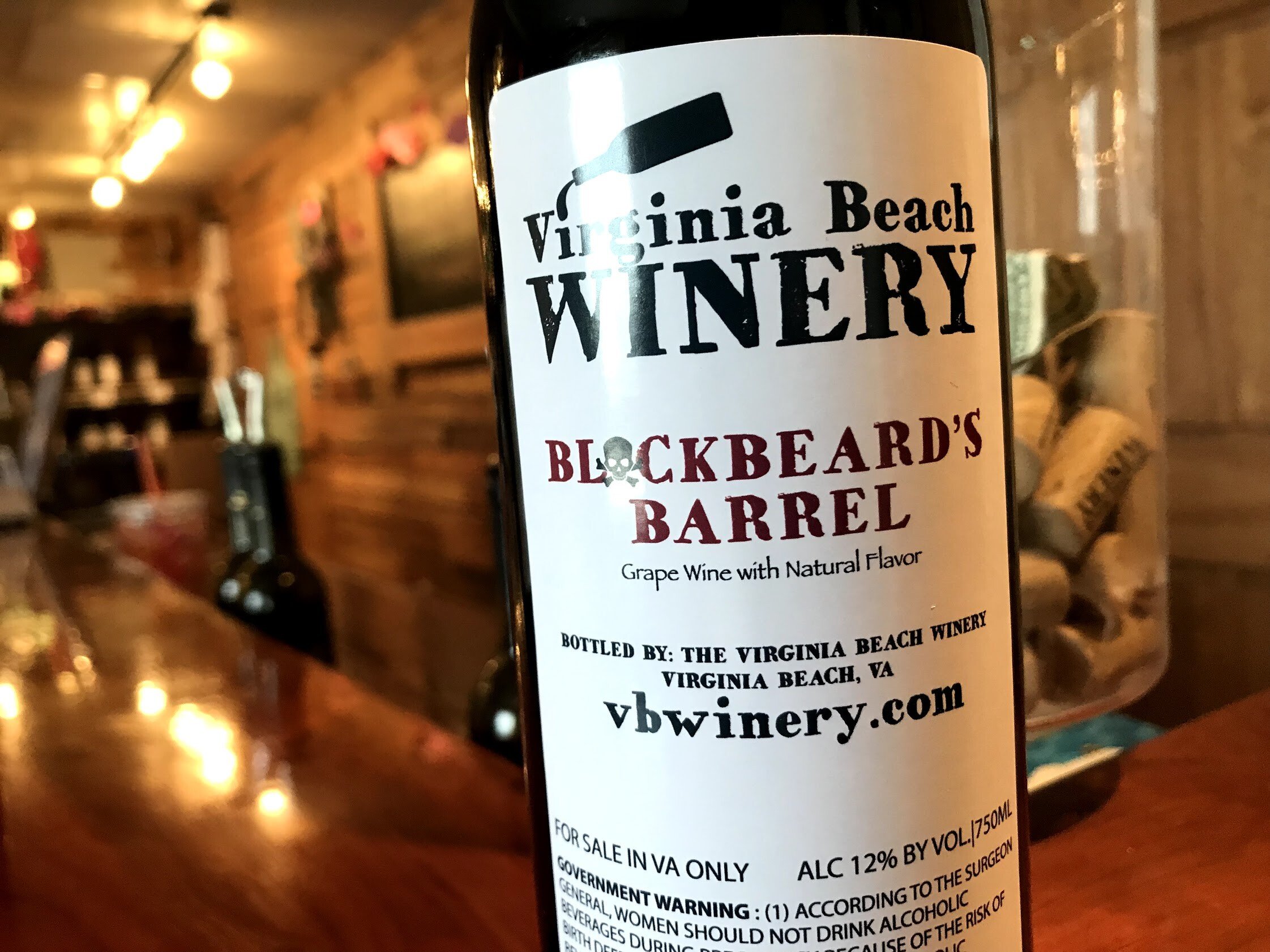 Blackbeard's Barrel
Legend
* The following is fiction *
Legend tells that after the fierce battle near Ocracoke Island in which Lieutenant Robert Maynard and his crew killed Blackbeard, they discovered what at first appeared to be a blank piece of parchment in Blackbeard's tattered Tricorne atop his head.

That night under a full moon Maynard and his crew were back on land drinking around a bonfire.  Maynard took the parchment from his jacket and as he was about to throw it into the fire, the combination of the moonlight and the smoke revealed writing that was hidden before.  It was the secret recipe of Blackbeard's own blend of wine, of which Maynard and his crew had seized several barrels from the wreckage of Blackbeard's ship, Queen Anne's Revenge!
Passed down in secret through the years and aged in the depths of Davy Jones' Locker, Blackbeard's Barrel is now sold exclusively here at the Virginia Beach Winery! 
Perhaps the most sought after and anticipated wine in Virginia Beach is back!
Profile
A beautifully balanced, medium body deep crimson red blend with a Merlot base.  Fruit notes and slightly sweet on the nose, with a smooth oaky finish.
Best after a few months to a year in the bottle. YARR, this wine is certain to make you feel like a pirate!
Great Pairings
Blackbeard's Barrel pairs well with rum, sailing, steak and red meats, cigars, and of course chocolate.

This is a great sipping wine which is best enjoyed around a fire while singing old sea shanties.
Taste it this weekend!
Stop by the Virginia Beach Winery and give it try!


Specifics:
Grape / Varietal: California Merlot Blend
Wine Type: Red Blend
Sweetness: Low - Medium
Oak: Medium French
Bottle Size: 750ml
ABV: 12 - 13%