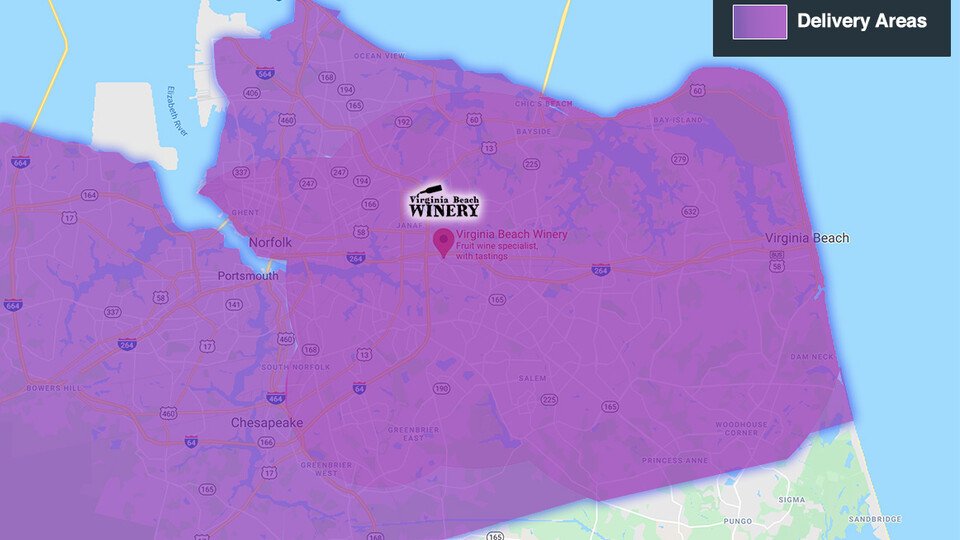 In an effort to help curb the spread of the Coronavirus ?? and still provide you with our delicious wines, we are now offering Delivery Monday through Saturday from 11am - 8pm! ❤️???
This service will be FREE for the next month during the COVID-19 outbreak.
It is important to note we cannot deliver to anyone under 21, nor to anyone that appears to be intoxicated.
You must also be home to sign for the delivery and have a valid ID.As a temporary solution ( while we figure out a new system for this ) we'll be using our store at store.vbwinery.com.

During checkout you'll click on Change under the Fulfillment Method, and then select Delivery!
The attached map is an estimate of where we'll deliver to, but not a hard cutoff at the boundaries.
If your area is not included, feel free to message us and ask if we'll deliver!
Delivery areas include most of Virginia Beach, Chesapeake, and Norfolk. We will also deliver to Portsmouth and Suffolk for larger orders as well. Please keep in mind our gas and tunnel costs.
We will not be delivering across the bridge tunnels.
We truly hope you all stay happy and healthy during this crazy time, and we're looking forward to continuing to provide you with our wines.
Last modified
Tuesday, March 24, 2020 - 7:38am