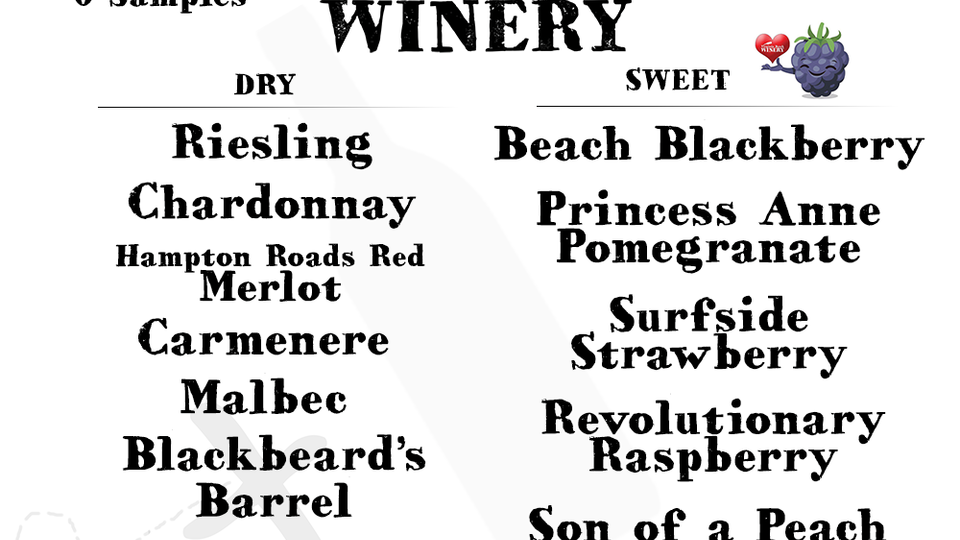 Happy Thursday! We have 11 wines to taste this week at our free wine tasting! That's right, 11 wines!
Since we have so many wines to choose from, we're doing a pick 6 from the tasting sheet. That means you get to pick 6 wines to try!
Here's a list of our events for the weekend:
Here's our wine tasting list for the weekend:
Riesling ?
Chardonnay ?
Merlot?
Carménère ? - Read More
Malbec ?
Blackbeard's Barrel ?☠️ - Read More
Beach Blackberry ? ( LOW STOCK! )
Princess Anne Pomegranate ?
Surfside Strawberry ( LOW STOCK! )
Revolutionary Raspberry ( IT'S BACK! ) ???
S️️on of a Peach ??
Stop by and see us this weekend and have some delicious wine! 
We're looking forward to seeing you! ???
Last modified
Friday, January 25, 2019 - 11:08am